Get an overview of your case
When you log in to your case in GoldFynch, the Overview page will be the landing page. This page gives you a quick snapshot of your case. From here, you can navigate to view your case analytics, view case activity, and request add-on services
The overview screen contains the following tabs -
Case Summary
The summary tab of the overview screen is the default screen that you see when you log into your case. The summary page has two sections. The left section of the screen gives the main details related to your case, and the section on the right gives information about the operations performed on the case.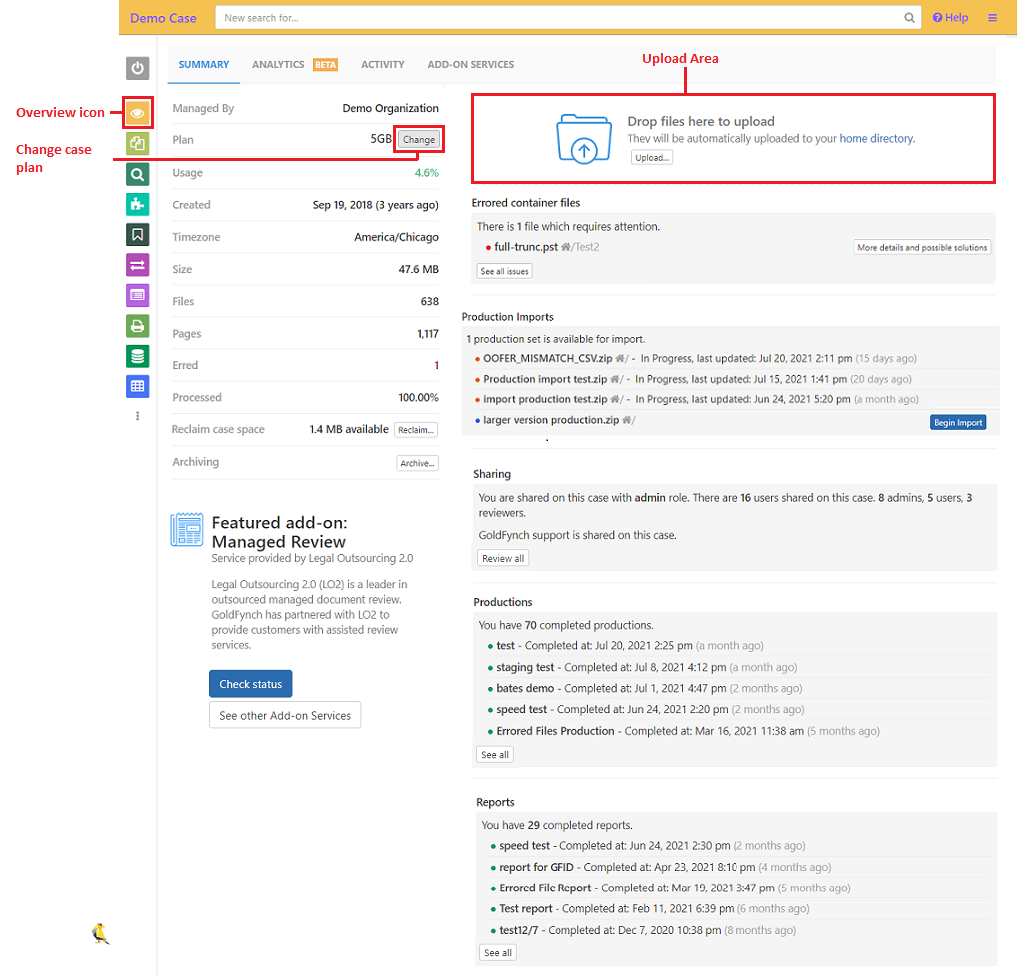 The case related details found on the section to the left are
Managed By - The organization the case is associated with is displayed here. This field is visible only if the case is linked with an organization

Plan - The current case plan is shown. Click on the Change button if you want to change the case plan

Usage - This shows the current usage percentage

Creation Date

TimeZone

Size - This shows the current size of the case

Files - This field shows the number of files associated with the case

Pages - This shows the total number of pages associated with the case

Erred - The number of errored files is displayed

Processed - The percentage of uploads that have been processed successfully is shown

Reclaim Case Space - The space occupied by original container files is displayed. Click on the Reclaim button to reclaim the case space

Archiving - GoldFynch lets you archive cases that are more than six months old. Click on the Archive button to archive your case
Featured Add-on
Any featured Add-on services are listed here.
If you would like to view the status of the add-on service click on the Check Status button
View other Add-on services that have been requested by clicking on See other Add-on Services
The information and functions present on the right section of the page are
Upload area - You can directly drag and drop any files you would like to upload to your case into the upload area. The files will be uploaded to the home directory. Navigate to the files view to upload your files to a specific folder. Learn more ways to upload files to your case.

Errored container files - All container files in the case that have processing errors are listed here.

Production Imports - All load file productions in your case that are in progress or waiting to be imported are listed here.

Sharing - Lists the number of users who have access to the case and the kind of access they have.

Productions - The total number of productions is displayed and along with a few of the latest productions.

To view all the requested productions and other production-related information click on the See all button and to go to the Requested Productions tab of the Productions view

Reports - The total number of reports generated is shown along with a few of the latest reports.