Case plans
GoldFynch offers case plans starting at 1 GB, up to 150 GB and even larger. It also provides each account with a free, 0.5 GB trial case.
---
Available case plans
| Size | Price/Month | Price/GB |
| --- | --- | --- |
| 512 MB | Free | - |
| 1 GB | $10.00 | $10.00 |
| 3 GB | $25.00 | $8.33 |
| 5 GB | $35.00 | $7.00 |
| 10 GB | $70.00 | $7 |
| 15 GB | $100.00 | $6.66 |
| 25 GB | $165.00 | $6.60 |
| 50 GB | $315.00 | $6.30 |
| 75 GB | $465.00 | $6.20 |
| 100 GB | $600.00 | $6.00 |
| 150 GB | $825.00 | $5.50 |
Case volumes above 150 GB increase in 50 GB increments at the rate of $275 per 50 GB. For cases over 500GB please contact us directly at support@goldfynch.com
Find detailed case and pricing information on the GoldFynch Pricing page.
Premium cases
All premium (paid) cases:
Receive premium processing
Get prioritized support
Have access to all add-on services
There is no limit to the number of premium cases you can have on GoldFynch
Produced documents do not have a "Produced with GoldFynch" stamp
Trial cases
A free case that an account receives:
Has a volume limit of 512 MB, and a processing limit of 1 GB
Has a "Produced with GoldFynch" stamp on produced documents
Does not grant access to complimentary services that are sometimes offered to accounts with paid cases
Does not have access to add-on services that GoldFynch provides
If a free case exceed the volume limit, a member of the GoldFynch team will get in touch to ask whether you wish to upgrade the case. If you don't wish to, you needn't take any further action - the case will be automatically deleted after a week.
Changing case plans
All cases can be upgraded to accommodate a larger file volume. To create premium cases, you'll need to enter payment information first. GoldFynch will alert you when your case exceeds its size limits, so choose a smaller case size when in doubt.
NOTE: To change case size for premium cases you will need to have a payment method set up.
Step 1. Navigate to the 'Settings' view
Open the case whose plan you wish to change and go to the 'Sharing' view by clicking on the button in the left pane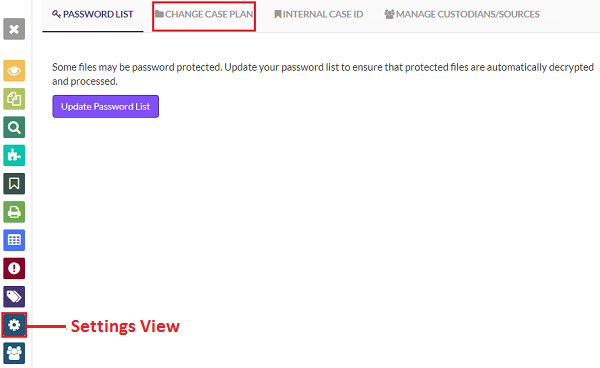 Step 2. Click on the Change Case Plan tab
Add a payment method if needed
If GoldFynch informs you that you don't have a payment method set up (as in the above image) click on the Setup a Payment Method button
Click on the Add a payment method button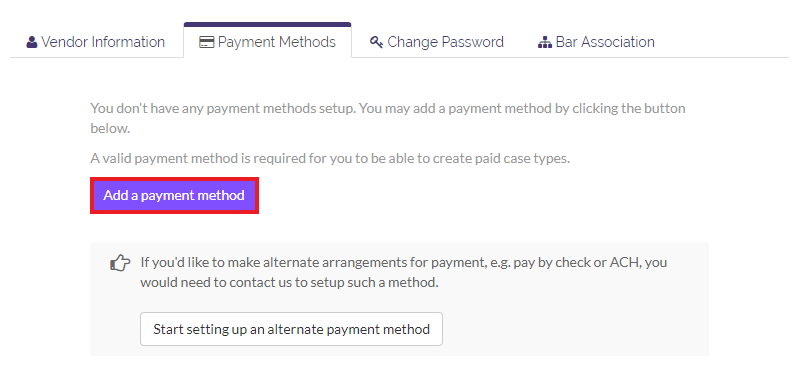 Enter your credit card details
Click on the Save payment method button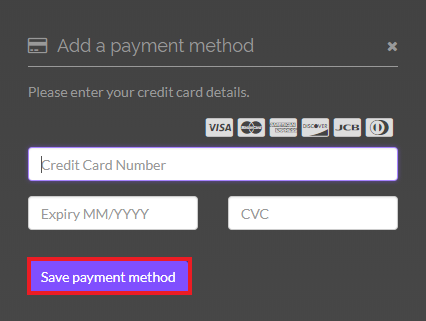 Return to the Change Case Plan tab
Step 3. Choose a plan
Choose a new case plan from the drop-down list

Click on the Change Plan button
NOTE: You'll be given a confirmation message like the one below to let you know the plan has been successfully changed.

Click here to find out about the other ways of setting up payment methods