Feature: Document Notes, Comments, and Annotations
28 November 2019
by
Mithun
GoldFynch has greatly expanded on its notes system with its latest update.
Earlier, notes were limited to tags, and specifically tag 'application' notes which could only be applied at the time of tagging documents, and which were not editable.
What's new?
Document Notes and Comments
A long-awaited feature, you can now add 'document' notes to individual files while viewing them in the Document Viewer. These function independently to tag application notes, and are useful for taking notes during review, or leaving notes for collaborators.
To make a document note, just open a file in the Document Viewer and begin typing in the text box under the 'Document Notes' section of the right panel.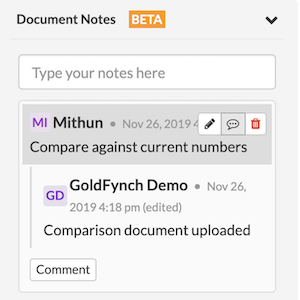 You can also comment on document notes–just click on the 'Comment' button under a note to do so. Comments help streamline collaborative review by reducing the amount of up-and-down required.
Both document notes and comments can be added, edited, and deleted by users from the Reviewer permission role upwards
The time, date, and users who add/edit notes and comments are displayed above the note/comment in the right panel
Document notes are included under the "Document Notes" column of reports generated from the 'Reports' view (if the report is configured to include document notes. Click here to learn more about including document notes in reports.)
Comments on Document Notes are not included in reports generated from the 'Reports' view
Annotations & Annotation Notes (and comments for those, too!)
Sections of text from documents can now be marked and assigned annotation notes. This allows you to highlight information, quickly navigate to it (just click on the quoted text to do so,) and comment on it.

To add annotations, click-and-drag the mouse over text while viewing it in the Document Viewer to select it, then clicking on the highlighter icon that appears. Enter a comment if you wish to, then click on the 'Save' button.
NOTE: You can (optionally) attach an initial comment to the highlighted section. If you enter an initial comment, it will be added to reports you generate that include annotation notes. GoldFynch by default prompts you to attach one, but you can turn off this behavior by checking the check box. The behavior can be turned back on in the 'Notes and Annotations' section of the 'App Settings' screen accessed from the menu button in the top-right corner of your GoldFynch page.

Once an annotation has been added, the highlighted text and its page number will be listed in the right panel. Click on the text to quickly jump to it in the Document Viewer. You will also be able to comment on the annotation in the same way that you would for document notes.