5-Minute eDiscovery: How to Save Time and Money for Your Small Law Firm
10 February 2019
by
Anith Mathai
Takeaway: eDiscovery can get quite complicated. But the latest eDiscovery applications are simplifying things. They're mobile, intuitive, and cost-effective. And it takes only 5 minutes to get going!
Wasn't 'paper' discovery so much simpler?
Yes, you'd have to read through reams of paper. And the only tools you had were post-its and a pencil. But the documents would be handed over to you and you'd review them. That was it. Now, with electronic discovery (eDiscovery), you have to worry about litigation holds, data retention policies, per-GB vs. fixed-cost pricing for your software, metadata, deduplication, OCR, load files and more!
Luckily, a new generation of eDiscovery applications is simplifying things again.
Let's take GoldFynch as an example. It's an easy-to-use eDiscovery application that prioritizes things that matter to your small law firm.
It takes just 5 minutes to sign up and get started.
All you have to do is go to the GoldFynch pricing page, choose your case plan, sign up, and you're done – no need to add a credit card. And you get a free, fully-functional trial case to test drive GoldFynch.
You can work from anywhere, with only a laptop and an internet connection.
You use GoldFynch through your web browser. Just go to GoldFynch.com and sign in. It's like using email. Because GoldFynch is in the Cloud, you don't need to download and install any software. And all you need to use it is a laptop and internet connection, which is perfect for when you're on-the-go. Also, GoldFynch is highly secure, so you don't have to worry about keeping your data private.
It's super easy to figure out how GoldFynch works.
Take a look at the screenshot below. You'll see a minimalist toolbar down the left side of your browser window. And when you hover your cursor over a symbol, a pop-up tells you what it does. Poke around for a few minutes and you'll get the hang of GoldFynch. Plus, there are YouTube tutorial videos, a manual and a knowledge base to help you along.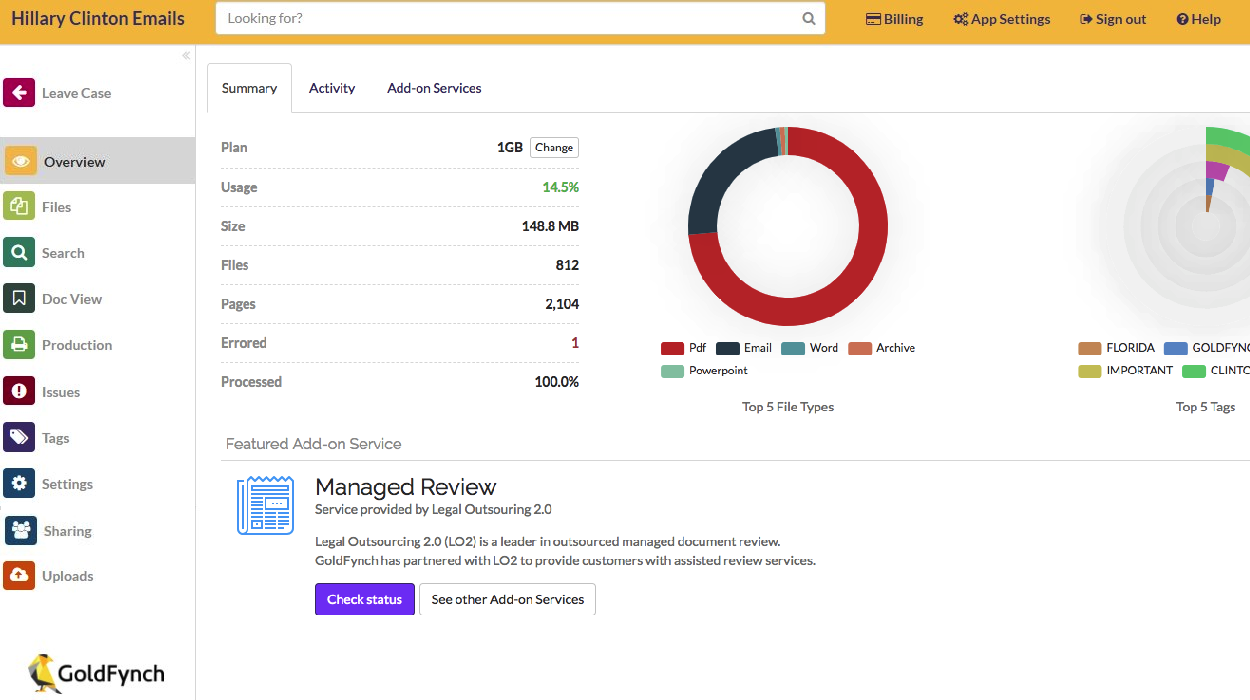 Searching your files is as simple as using Google.
GoldFynch is your own private Google. To search the files you've uploaded, type your keywords into the search bar:
You can run simple searches. That's with single keywords. So, you'd search for 'John' to find documents referring to your newest IT guy–John.
But you can run highly specific searches too. Here, you'll use keyword combinations to make an advanced search. With the right keywords, you can give a complex command like: "Find all emails John Anderson sent Sally Nedry, which mention the Pfizer meeting. And which were sent before 2015." And you'll give this command using simple drop-down bars.
Save your searches and reuse them later. It takes time to build good searches because you'll keep testing and tweaking them. So, GoldFynch lets you save them when you're done.
Sort through and categorize your files, with one-click tagging.
With paper files, you'd use different colored post-its to categorize or call attention to paragraphs, files, or groups of files. With GoldFynch's eDiscovery, it stays just as simple. You use a 'tag' or virtual post-it. It doesn't change the content of the file or the way GoldFynch uses the file, but you'll be able to call up all files that have that tag. Plus, you can tag multiple files at once, to speed things up.
A wizard guides you through 'production.'
GoldFynch has a 'Production Wizard' to help you produce files in a few simple steps. You can:
Choose which files to produce. For example, you can produce only files with a particular tag.
Choose your production format: Native or PDF/TIFF. And with PDF/TIFF, you can produce (1) all documents in one PDF/TIFF, (2) each document in a separate PDF/TIFF, or (3) Each page of every document in a separate PDF/TIFF. And even in a PDF/TIFF production, you can choose for specific files to be produced in their native format. What's the difference between Native and PDF productions?
Stay organized. GoldFynch helps you Bates-stamp your productions. And it gives you a 'production log' with useful information like how many files are in your production, how many pages per file, what format they're in, etc.
Share productions from within the GoldFynch software. You'll share a link with your team, and GoldFynch will tell you when they download or open the production. You can also invalidate the link if, for example, you share it with the wrong person.
It's easy to understand what you're paying for.
How much storage space do you need? GoldFynch offers cases from 3 GB to 100+ GB. Just choose the size that suits you and you're good to go. With other software, you have to decipher complicated pricing charts with sneaky hidden costs. And you'll often have to email (or call) back-and-forth with the provider to sort out the details. Worse, you'll then have to deal with annoying sales calls. Find out more about different eDiscovery pricing plans.
Your bills are regular and predictable.
Pay for the size of the case you've signed on for. That's it. So, a 3 GB case will cost you $25 a month. It's so easy to budget for eDiscovery with this fixed-pricing system. Find out more about the advantage of GoldFynch's billing.
Help is just a phone call (or email) away.
GoldFynch is designed, developed and run by the same team. So, the tech support isn't outsourced. Which means prompt and reliable service. Click here for tech support.
Want to find out more about GoldFynch?
For more about simple eDiscovery for small law firms, check out these articles.