Why NALA's Paralegal Conference (2023) Was So Motivating
Takeaway: The NALA 2023 conference reminded us how useful a paralegal organization can be in boosting careers. And it was a chance for us to explore current legal tech themes and showcase GoldFynch's abilities to tackle these themes.
We couldn't resist the NALA (National Association of Legal Assistants) 2023 event because of all it promised.
We've been working hard to establish GoldFynch in the legal tech world, so attending NALA's renowned paralegal conference was a no-brainer. Established in 1975, the National Association of Legal Assistants (NALA) is accepted as a leading professional organization for paralegals. And this is because it offers knowledge, resources, and networking opportunities essential for personal and professional growth. Specifically, it has famous and respected certification programs, continuing education courses, and cutting-edge legal research tools. All of which are things a software company like ours wants to (and needs to) explore.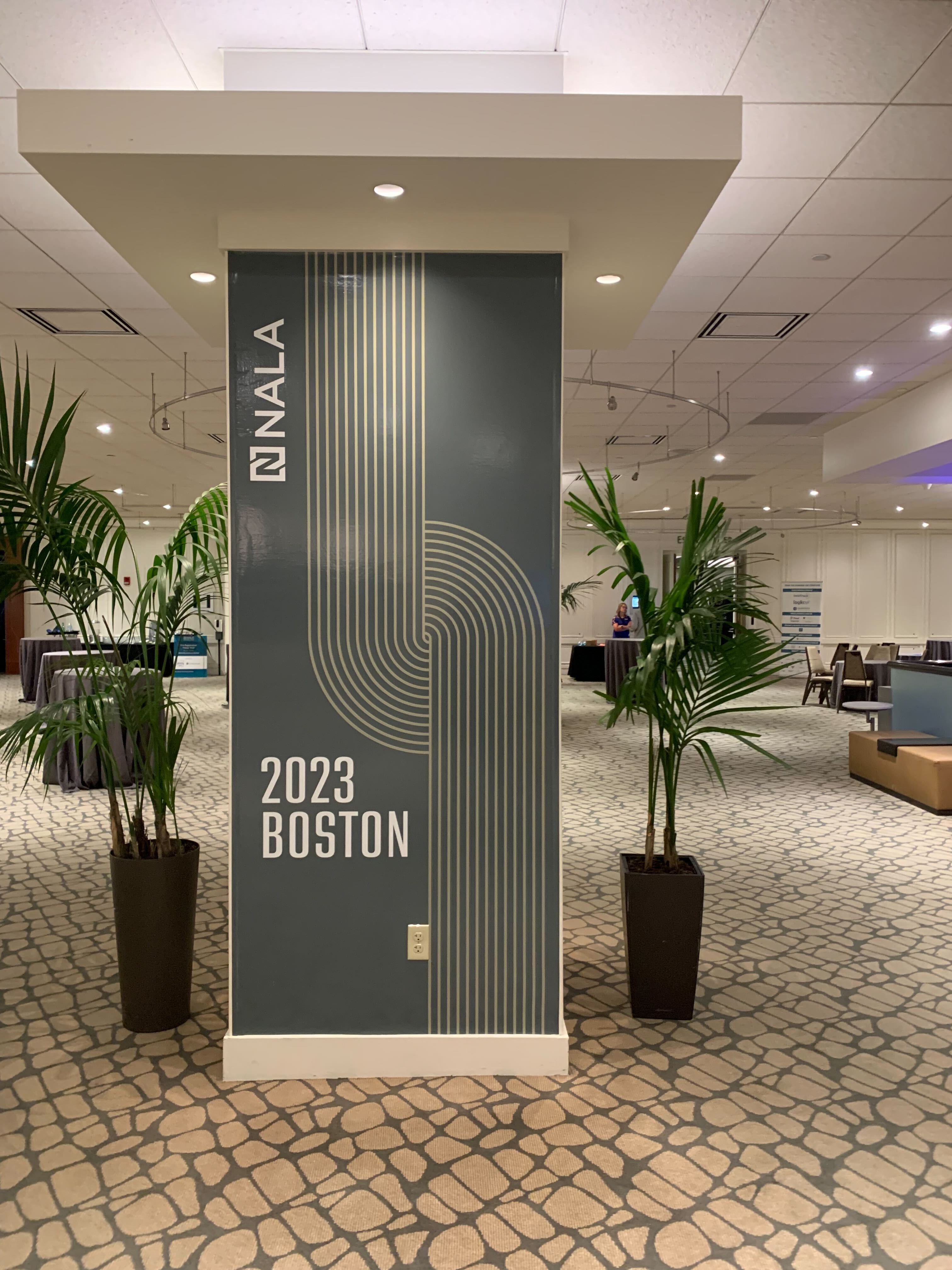 The fun started the day before the event as we settled into the vibrant city of Boston.
Our first step was to settle into the Westin Copley Plaza – the event's venue – in the heart of Boston. There was a feeling of vibrancy and energy as we were warmly welcomed by fellow participants – with all of us gathering for pre-registration activities. This involved a networking Happy Hour – generously sponsored by Wolters Kluwer – which set the stage for heartwarming reunions (for veteran participants) and new connections (for first-timers like us). Surprisingly, things had a close-knit family feeling since many attendees had met 'virtually' for earlier events, but not in person. So, there were many smiles, hugs, and even a few heartfelt tears. And this was complemented by another memorable figure – Hope Engelmann – who welcomed us with warmth and more camaraderie.
Day one's highlight was a captivating keynote address.
The conference officially started the next day with a captivating keynote address on the significance of emotional intelligence. Catherine Sanderson took center stage, delivering a compelling presentation backed by empirical scientific research. And it left attendees in awe of her insights and practical strategies to enhance personal and professional lives. This was followed by a lunchtime address by NALA President Debra Overstreet. It celebrated the dedication and commitment of the NALA community, recognized its members' outstanding contributions, and helped us all feel that we were part of a close, united team.
Day two included a series of education sessions.
Day two of the conference delved into the prestigious NALA Certified Paralegal (CP) exam preparation courses and the highly sought-after Continuing Legal Education (CLE) sessions. These nationally-famous certification programs set a high bar for competency and expertise in the field. (Getting the CP credential is considered undeniable proof of a paralegal's commitment to their craft.)
Finally, things ended with a farewell and fond anticipation for next year's event.
As the conference drew to a close, we all exchanged farewells. This involved rehashing everything we'd learned, sharing our newfound knowledge, and exchanging contact information for future catch-up sessions. This winding down had a great mix of nostalgia for what we had been through and anticipation for next year's event in Louisville, KY.
So, what did we take away from all this? Well, first, there's the sheer power of NALA in boosting careers.
The NALA conference reminded us just how valuable knowledge-sharing and networking are in the legal profession. If you're looking for a career boost, NALA or a local paralegal organization can provide the resources, personalized support, and regional insights you'll need. And the bonds you'll form through this process go beyond mere professional networking – making you feel like you're part of an active, growing group of high-achievers.
This feeling of camaraderie was a recurring theme. And the best word to describe the event is 'transformational.'
The 2023 NALA conference was clearly more than just an annual event. Rather, it was a testament to the strength and unity of the paralegal community. So, instead of just being a smoothly-run conference, it felt more like a transformational experience. A two-day extravaganza carefully curated to offer a perfect blend of learning, networking, and entertainment. And there was a steady build-up of energy and excitement through the whole event – supported by the natural vibrancy of Boston. For instance, we could feel the anticipation even as our taxi driver drove us to the conference via the labyrinthine Ted Williams tunnel construction. And the sheer number of first-time attendees added to this thrill.
Importantly, we got to showcase GoldFynch's eDiscovery capabilities.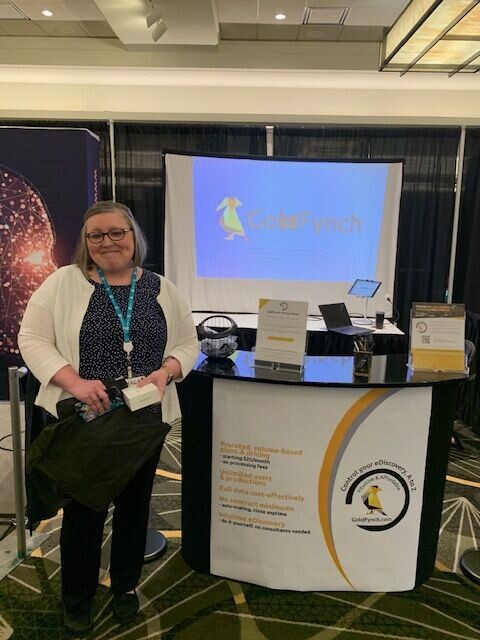 Our goal for attending this event was to tap into the current pulse of eDiscovery in law. And we also got to showcase how our GoldFynch eDiscovery software can address rising trends. Notably, we got to set up a booth to demonstrate GoldFynch's features, establish new contacts, and learn about unsolved tech problems we can tackle. It was also loads of fun to build buzz via our raffles and prizes. And we want to give a special shout-out to participants like Deana Lively, who won our Apple AirPod giveaway.
Incidentally, if you're looking for easy-to-use eDiscovery software, consider trialing GoldFynch.
If you haven't yet settled on which eDiscovery software to use, consider trying GoldFynch. It's an affordable eDiscovery service designed for small and midsize firms. And it's stocked with essential eDiscovery tools and bonus features. For instance:
It costs just $25 a month for a 3 GB case: That's significantly less than most comparable software. With GoldFynch, you know exactly what you're paying for: its pricing is simple and readily available on the website.
It's easy to budget for. GoldFynch charges only for storage (processing files is free). So, choose from a range of plans (3 GB to 150+ GB) and know up-front how much you'll be paying. You can upload and cull as much data as you want, as long as you stay below your storage limit. And even if you do cross the limit, you can upgrade your plan with just a few clicks. Also, billing is prorated – so you'll pay only for the time you spend on any given plan. With legacy software, pricing is much less predictable.
It takes just minutes to get going. GoldFynch runs in the Cloud, so you use it through your web browser (Google Chrome recommended). No installation. No sales calls or emails. Plus, you get a free trial case (0.5 GB of data and a processing cap of 1 GB) without adding a credit card.
It's simple to use. Many eDiscovery applications take hours to master. GoldFynch takes minutes. It handles a lot of complex processing in the background, but what you see is minimal and intuitive. Just drag-and-drop your files into GoldFynch, and you're good to go. Plus, you get prompt and reliable tech support (our average response time is 30 minutes).
Access it from anywhere, and 24/7. All your files are backed up and secure in the Cloud.
Want to find out more about GoldFynch?
For related posts about eDiscovery, check out the following links.