Control Parameter profiles
GoldFynch's Production system lets you generate productions with load files. It also gives you the ability to customize the metadata (parameters) of the load files. To do so, it uses Control Parameter profiles.
A Control Parameter profile is a collection of data about a set of fields to be included in the load file. Fields consist of:
The field itself (e.g. File Name, Created Date, Email Send Date, etc.)
The order in which the fields should be arranged
The header titles that should be used
The type of information of each field (e.g. string, boolean, date-time, etc.)
Any additional formatting information a load file might need (e.g. "MM/DD/YYYY HH:mm:ss" as date and time formatting for a date-time field) - though this information is usually stored as a separate field immediately following the primary one
To view custom or default control parameter profiles, or create new ones, follow these steps:
Creating Custom Control Parameter profiles
Step 1. Navigate to the Productions view by clicking on the button in the left navigational panel
Step 2. Click on the Control Parameters tab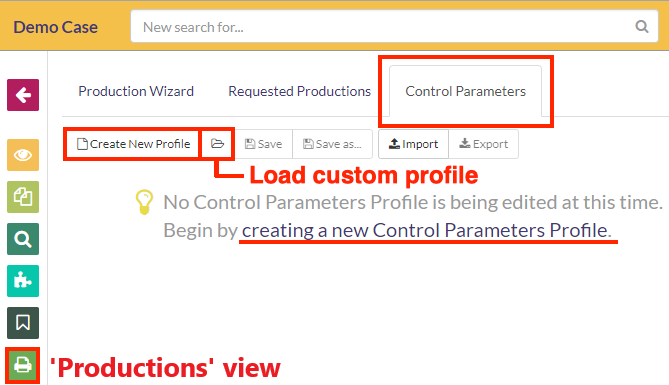 Step 3. Click on the Create New Profile button, or the "creating a new Control Parameters Profile" text
Step 4. Enter a profile name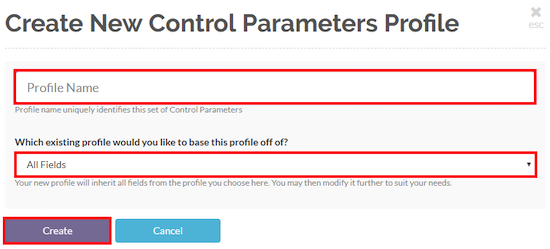 Step 5. From the dropdown list, select a Control Parameter profile to use as a template for your new one
Step 6. Click on the Create button. The profile will be loaded and displayed similar to the image below:
Note: The "All Fields" profiles (MM/DD/YYYY, DD/MM/YYYY and YYYY/MM/DD) and "Minimal Fields" profiles are default options and will always be available. Any existing custom profiles will be listed here as well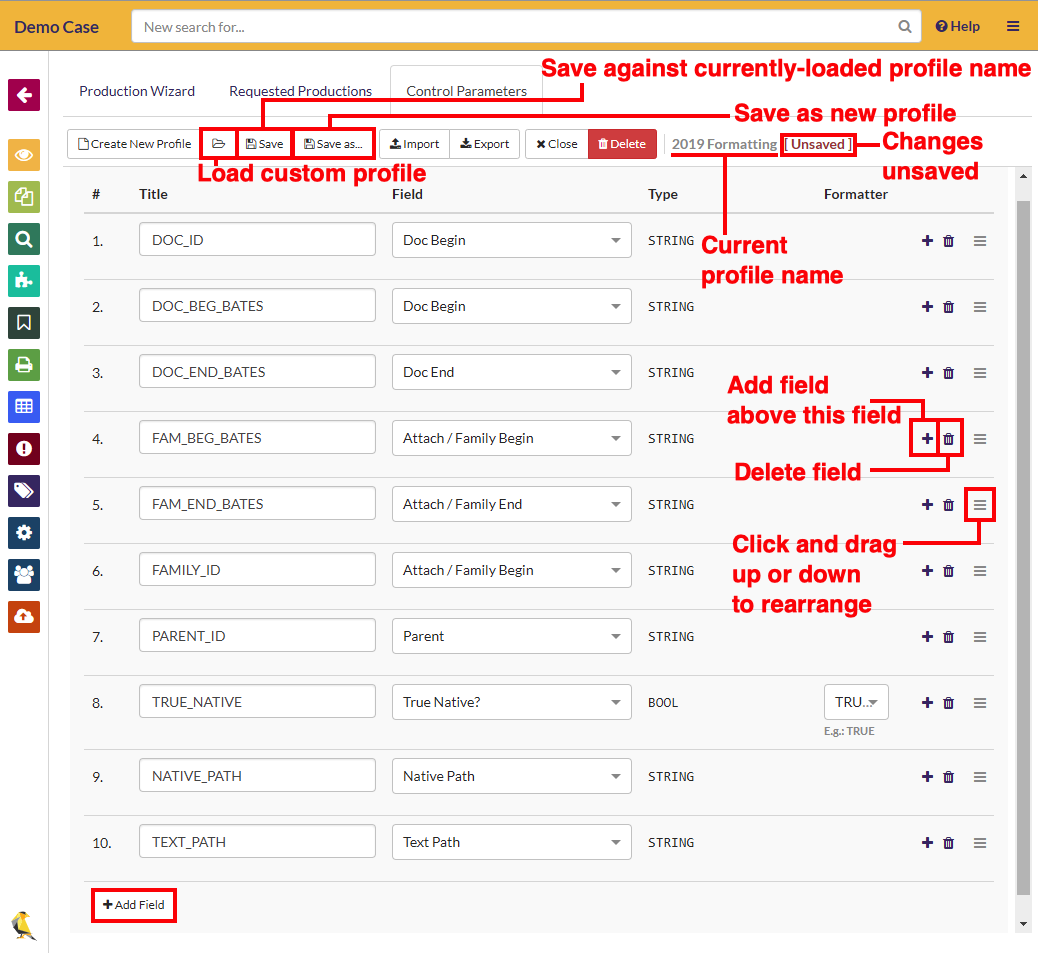 Step 7. Make the required changes to the template:
Rearrange fields by clicking and dragging them by their rearrange icons
Add fields using the +Add Field and Add field above this field buttons
Remove fields using the Delete field button
Edit the Title, Field, and Formatter fields as needed
If there are any incomplete or incorrectly-formatted fields, you will receive a notification:
Step 8. Once you are happy with your changes, click on the Save button. Once saved, the [Unsaved] text will disappear
Note: If you have used a custom profile as a template, clicking the **`Save`** button will overwrite it. To save it as a new profile instead, use the **`Save as...`** button
Loading custom Control Parameter profiles
From the Control Parameters tab of 'Productions' view, click on the load button. All custom Control Parameter profiles in the case will be displayed, along with the number of columns (i.e. fields for the load files) they contain and their created and last-modified dates. Click on a profile to load it.
Exporting and importing Control Parameter profiles
To export a parameter profile, load it as described above, then click on the Export button. It will begin downloading to your system as a .json file.

To import a parameter profile, click on the Import button, browse to the location of the .json file on your computer that contains the parameter information.
Assigning Control Parameter profiles for load files
While producing your files as described here
During Step 3 (Production Output) select one of the "Concordance/Relativity style load file formats"
Then select a Control Parameter profile from the drop-down menu at the bottom of the screen
Continue the production process as with a basic production
Other production features
Production Logs
GoldFynch generates logs for each of your productions. Find out more about them here.
Sharing productions
Learn how to share your productions directly through GoldFynch, via email, or through a sharing link.