What is a Production Log?
When creating a production set, the original file names are replaced with a Bates number sequence, which can made it cumbersome to locate the original file. The opposing party only has access to the Bates number and will only reference content based on the Bates. GoldFynch's production log feature makes it easy to cross-reference back to the original file from the Bates number with just one click.
Here is how it works
When you create a production set in GoldFynch, a log is created. The log is an interactive listing of all the files that are contained in the production set. In this log, you can filter through the names of files, see if the file has any redactions, and click to open the original file.
Access Production Log
1. Click on the Productions button in the left navigation panel.
2. Click on the Past Productions tab
3. From the list of productions, click on the Production log icon against the production whose log you want to view

The production log will open in a tab alongside the Production Wizard, Past Productions and Control Parameters tabs. Once in the production log, the listing of files is available along with:
the number of items in the production
The Bates range of items in the production
The native, deleted and redaction status of individual files
Bates range and the number of pages in each document
The location of the original files in the GoldFynch case's folder structure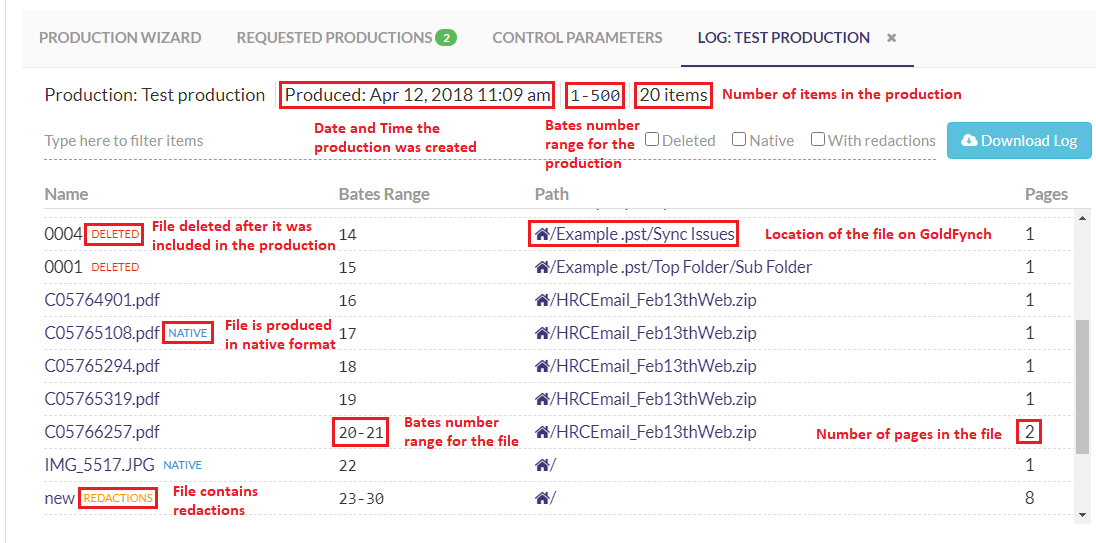 Click on the Download Log button to download a copy of the production log (in the .csv format)
Cross-referencing files
Click on a file name on the production log page to be taken to the original file in the file viewer/'Docs' view.
When viewing a file in the 'Docs' view, all the productions that the file is present in are displayed in the right panel.

Filtering and searching for files in the Production Log
Users can quickly search for files using the filter bar. Typing into the filter bar will filter by, and highlight, matching text in file names or Bates numbers.

Deleted, redacted and native items can also be filtered by checking their respective checkboxes.