The Production log allows you to cross-reference produced files with the original file
What is a Production Log?
When you create a production and share it with an external party, both parties only reference the files by the Bates number. GoldFynch has a new feature that will help you with referencing files in a production when discussing it with external parties.
When creating a production set, the original file names are replaced with a Bates number sequence. Which made it cumbersome to locate the original file. The opposing party only has access to the Bates number and will only reference content based on the Bates. By adding the production log, we have made it easy to cross-reference back to the original file from the Bates number with just one click.
Here is how it works
When you create a production set in GoldFynch, a log is created. The log is an interactive listing of all the files that are contained in the production set. In this log, you can filter through the names of files, see if the file has any redactions and click to open the original file.
Access Production log
To access the production log, click on the Production on the left navigation pane. In the list of productions, you will now see a "Production Log" option on the right side.

Once in the production log, the listing of files is available along with the Bates range, redaction status, native status. It also shows the location of the original file.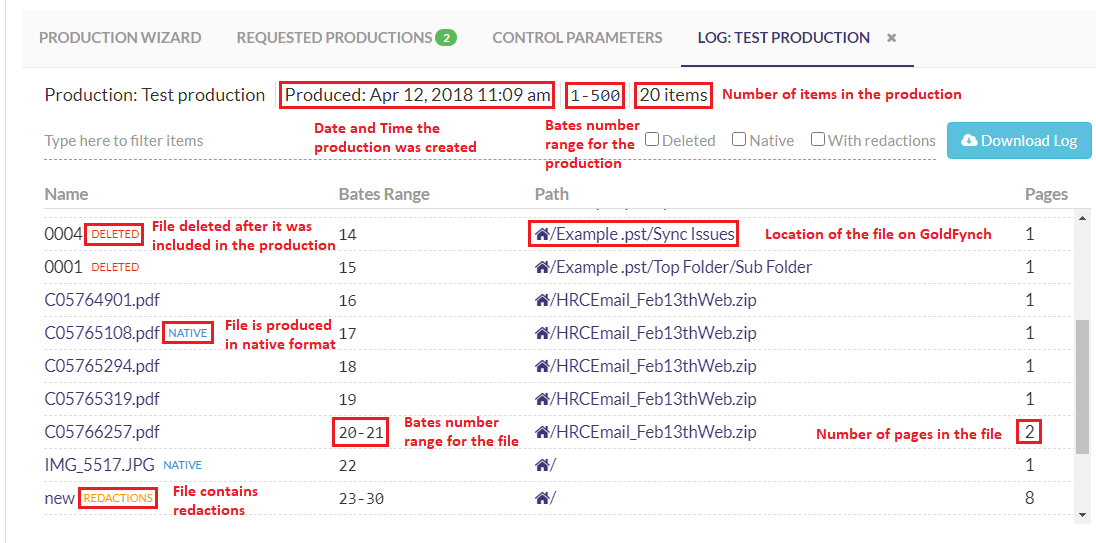 Users can filter file names using the filter bar. By typing in the filter bar, the production log will interactively highlight any files names or Bates range that match the string in the filter bar.
Deleted, redacted and native items can also be filtered.
As part of the software updates we made for the production, we added production file cross-referencing. When opening a file in the file viewer, users will now be able to see all the productions the file in which the file is referenced. Users can also click the name of the file in the production log, to open the original file.

If you have any feedback for the GoldFynch production log feature, feel free to get in touch with us at support@goldfynch.com