GoldFynch offers several add-on services to users. Some are through approved support service providers at a discounted rate, and others are from GoldFynch itself. Learn more about them here.
There are a number of add-on services that can be accessed by GoldFynch users through the GoldFynch web app. They are useful in specific scenarios, like if you want a large volume of emails from a client's mail server to be directly uploaded to your GoldFynch case.
Read on to find out how to initiate a request for these services, as well as find out about the pricing of each service.
Viewing the available add-on services
Step 1. Open a GoldFynch case
Note: Certain services are not case-specific. For such services, you can follow these steps selecting any of your cases
Step 2. Click on the 'Add-on Services' tab in the 'Summary' view (the default view when opening a case)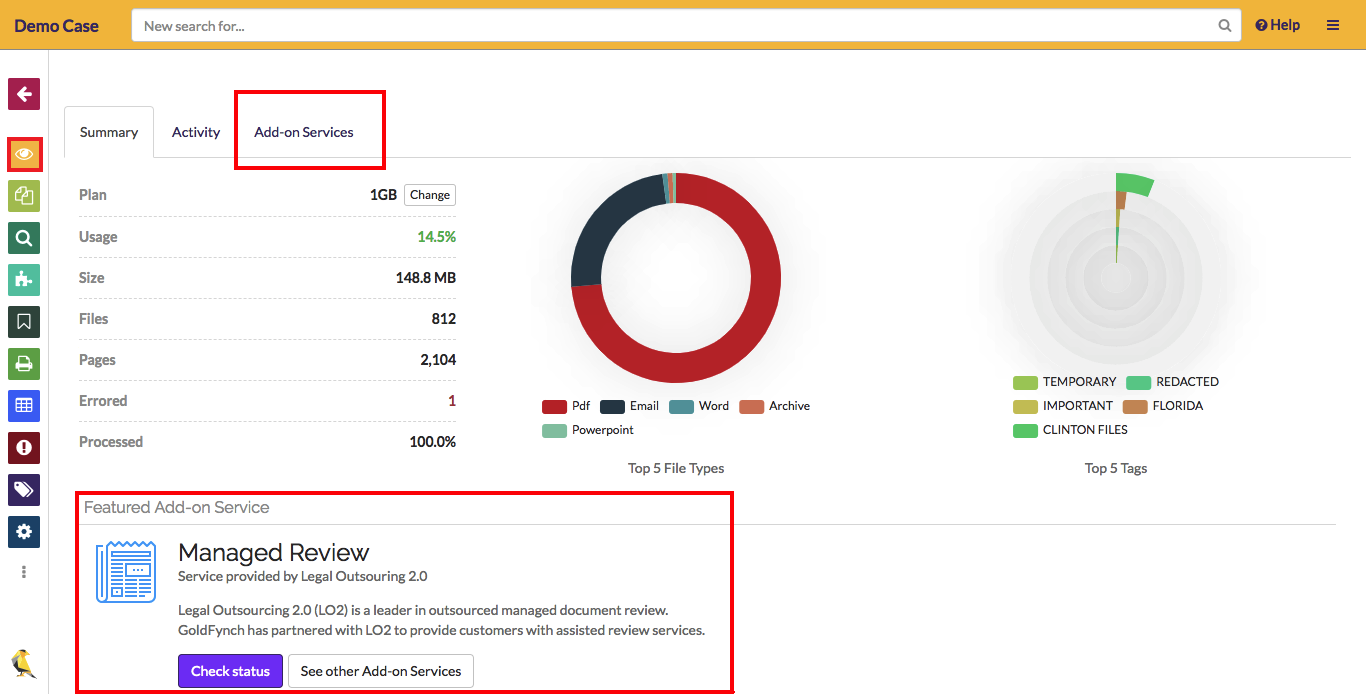 GoldFynch periodically features an add-on service that is visible directly from the 'Summary' view (as seen above)
Requesting an add-on service
Step 1. Click on the relevant button of the service you would like to use: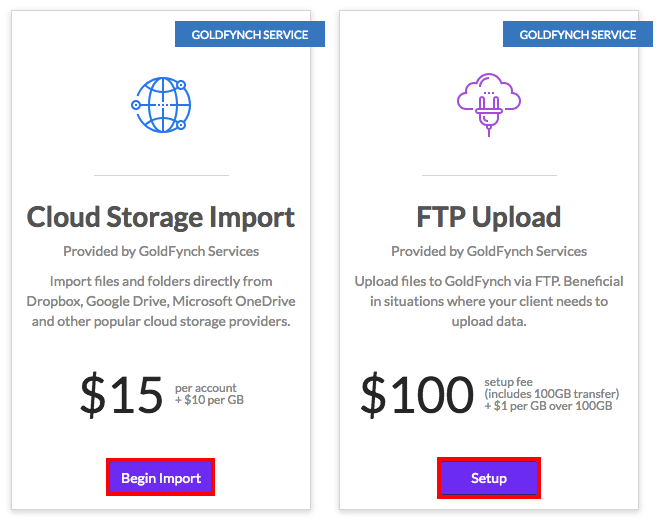 Step 2. Depending on the service, follow the instructions provided, inputting information where necessary: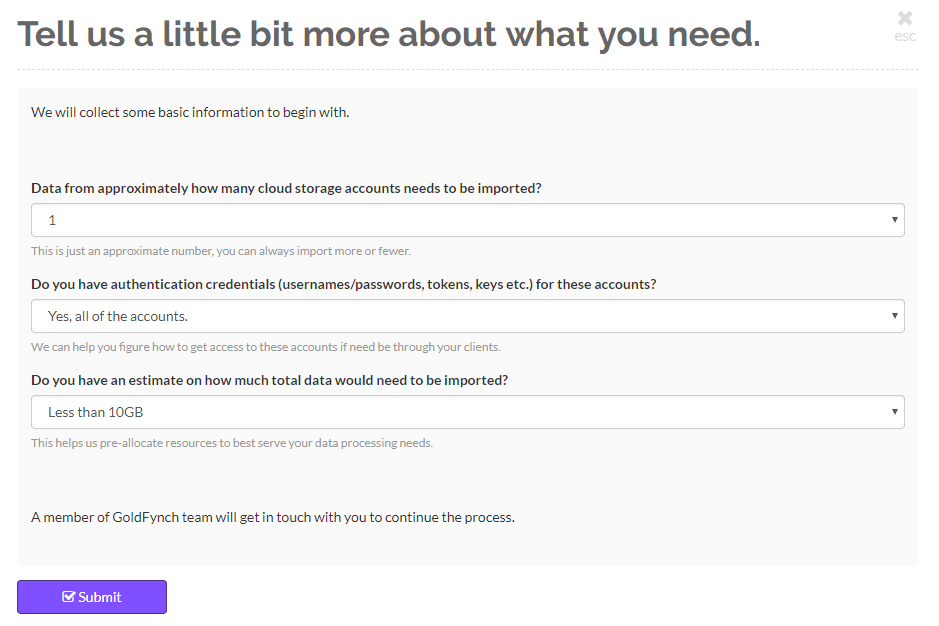 Tracking the status of a service
After submitting the request, you can track its progress by clicking on the Check Status button: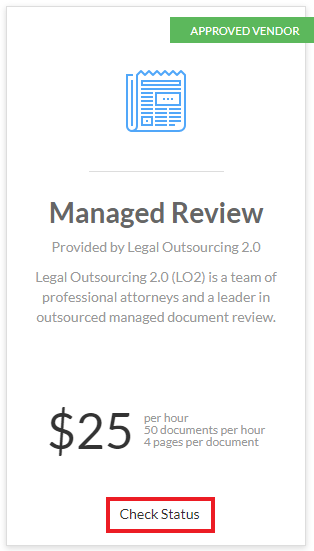 Note: If there are any issues with the process, the GoldFynch support team will get in touch with you
Once the status is set to 'INPROGRESS' it is actively being worked on:

You can tell whether the add-on service is offered by GoldFynch or an approved vendor by the tag visible in the top-right corner of the service's information box: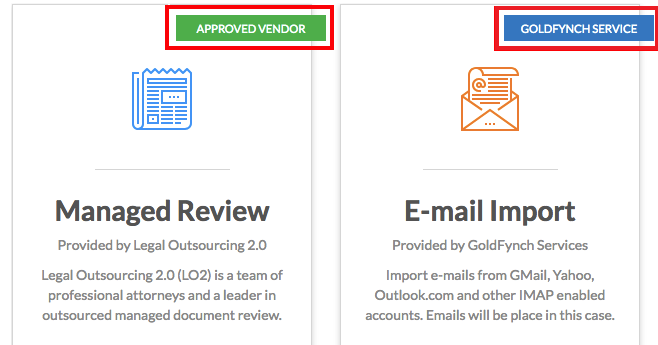 Note: The services from external providers are discounted, and to make use of the discounts you will have to go through the GoldFynch application. Below is a breakup of the pricing of services:
Service
Description
Provider
One-time fee
Rate for additional volume
Managed Review
Conducted by professional attorneys specialized in outsourced managed document reviews
Legal Outsourcing 2.0
na
$25 per hour, 50 documents per hour, 4 pages per document
Additional Processors
Increase the speed of processing your files with dedicated data processors
GoldFynch Services
$100
(processor available for 48 hours)
$100 per additional processor
Social Media and Mobile Text Import
Import phone texts and social media accounts from Facebook, Twitter, Google+, Instagram or LinkedIn into this matter
(coming soon)
$25 per account
+$55 per GB
E-mail Import
Imports e-mails from Gmail, Yahoo, Outlook.com and other IMAP enabled accounts. Emails will be placed in a new case
GoldFynch Services
35 per account
+$15 per GB
Cloud Storage Import
Import files and folders directly from Dropbox, Google Drive, Microsoft OneDrive and other popular cloud storage providers
GoldFynch Services
$15 per account
+$10 per GB
FTP Upload
Upload fils to GoldFynch via FTP. Beneficial in situations where your client needs to upload data
GoldFynch Services
$100 setup fee (includes 100GB transfer)
+$1 per GB over 100GB
Custom Production Help
Get help with creating custom Productions
GoldFynch Services
na
$125 per hour of support